Georgia Senate Runoff Election Deadlines
Election Day: January 5, 2021
Last day to register to vote for runoff: December 7, 2020
Last day to request absentee ballot: January 1, 2021
Early voting begins: December 14, 2020 
Early voting ends: January, 1 2021
Last day to cure absentee ballot: January 5, 2020, 5pm
Last day to cure provisional ballot: January 5, 2020, 5pm
Jurisdictions around the state will also have runoff elections on December 1, 2020. Check mvp.sos.ga.gov to see if your district will vote in these elections.
Curing (fixing) Absentee Ballots  
If you voted absentee/ by mail, please check to confirm your ballot was accepted. Ballots can be tracked securely here.  Here's how you'll know if your vote counts:  If you log in and the circle is whole, and your status says "accepted" or "completed," then you're good to go!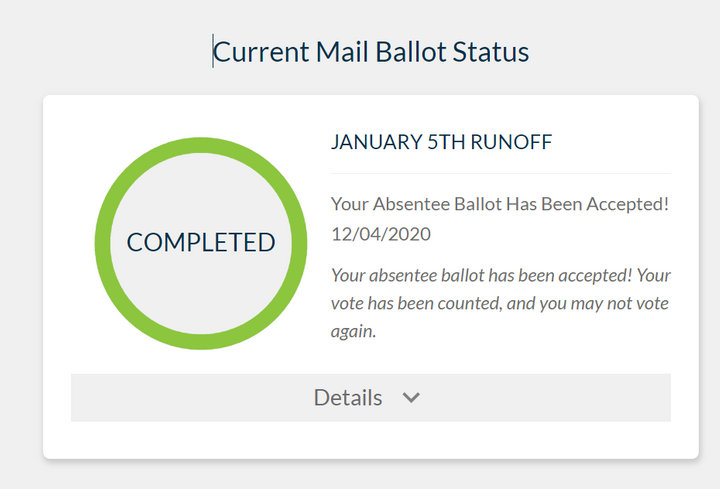 If the circle does not say completed, then you need to cure or fix your ballot. Common reasons include "missing signature" or "signature match" – both of these issues can be fixed by contacting your county elections office. 
Don't panic – you have until 5 pm on Friday, January 8 to "fix" or "cure" your ballot. 
Here are 3 steps to do it:
Contact your county

here

and ask them for a

cure form. Below is an example of what the form may look like or entail, but make sure to contact your county to get the correct one.


Complete the form and include a copy of your license or government-issued photo ID. 

Return the form (in person or via email or fax provided) BY 5 pm on Friday, January 8. 
Curing Provisional Ballots
Some people may have to vote provisionally on Election Day. A provisional ballot is a backup paper ballot that poll workers use when they cannot determine eligibility at the time of voting. Voters may be given a provisional ballot if their eligibility cannot be determined, or if they do not have the correct ID with them. Voters must contact their county to fix any eligibility issues before Friday, Jan. 8 at 5 pm. 
For voters who used a provisional ballot because the machines were down, you DO NOT need to contact your county. 
How to cure your ballot:

Contact your

county's elections office
Give them your information, and tell them you need to cure your ballot.

Note: Depending on the county, you may have to go in-person to prove your identity.

Some counties may allow you to cure your ballot electronically.

The deadline for your ballot to be cured and counted is Friday, January 8 at 5 pm.
How do you register to vote or check your registration status?
Online, at

mvp.sos.ga.gov 

At your county elections office

By mailing in a completed voter registration application to your county elections office
How to Return Your Absentee Ballot
Your ballot must be received by your county's elections office by 5 pm on Election Day (January 5th).

You can either return your ballot in-person at an approved drop box in your county, in-person at your county's elections office, or by mail. If you choose to return your ballot by mail, please note that it must be received by Election Day, not postmarked.

To track the status of your absentee ballot, please visit

https://georgia.ballottrax.net/
Voting by Mail
Voting by mail, voting absentee, voting from home, all mean the same thing: your ballot 

will be mailed directly to you.

It is your right.

You can return your ballot by mail, dropbox,

or in-person. Check with your local county

elections office for acceptable return options.

Voting by mail is safe, convenient, and reliable.

You have to fill out an absentee ballot application to receive your ballot by mail.

Once your application is received, your

ballot will be mailed to you. You can return

your application via email, mail, or in person.

Once you receive a ballot,

return it as soon

as you can!
In Person Voting
You can vote early in-person from December 14, 2020 to January 1, 2021 at any early voting site in your county.

Follow public health guidelines and

wear a face covering to reduce the spread of COVID-19.

Bring government issued photo ID, such as GA driver's license (even if expired), GA Voter ID card, valid government employee ID, valid US Passport, or valid military ID. See more details

here

.